Rating: Absolutely Worth Seeing
Out of the hip: Maria Dorn shoots from the horse and out of the car – exhibition at the Remisen-Gallery
By Maryanto Fischer
The garden table almost fits to one of those enchanting breakfast still lives you see in commercials: steaming coffee, croissants gleaming golden in the morning sun next to shiny red jelly. Maria Dorn remains completely untouched."In the fewest cases I arrange things", she says while opening a portfolio marked with large letters "Look, twice!" Under this title, the Grossauheim amateur photographer will have an exhibition coming up in the Remisen-Gallery at Schloss Philippsruhe. Rating: absolutely worth seeing.
Maria Dorn never leaves without at least one camera. If not, she –sometimes in the past – had to regret the absence of her working tool very bitterly. "My photography is mainly lomographical", explains the educated dental hygienist, "the images develop from the hip – from a bike, out of an airplane or from the back of a horse". Over the years she acquired a radar view for motives and parts of reality worth exploring. "When I am on the way nowadays I realize things even in familiar places I never used to notice in the past." The interest in photography Maria Dorn, born 1959 in the contemplative town of Ingelheim at the Rhine-River, inherited from her father. Since she started to deal seriously with this media in 1990, she has filled countless data storage devices with image files. Alone about 6000 are instantly viewable on her computer screen. All are connected by an intelligent view of the world. "Often I am just lucky enough to be at the right place at the right time", Dorn says decently. Since she hits the release most often spontaneously, sometimes technical deficiencies are unavoidable.
Image tension is the primary goal

"Modern photo technology is a blessing, which I exploit", Dorn says. She deeply admires those, who in the early days of photography had to deal with the simplest tools or today still and deliberately work traditionally. For her, image tension is the primary goal. "I don't care for post card prettiness, rather for pictures using their drama to induce meditation, a smile or even action".
The exhibition "Look, twice!" consists of pairs of pictures. In composing the exhibition Maria Dorn acted as a pretty astute curator of her on workings. Especially in the pairing, her anyhow profound or ironic-buoyant pictures gain additional expressiveness, which so often hovers over different levels of meaning. Commonness or contrast of the images can be by motive or of coloristic or compositional nature.
Never seeking motives
In combining impressions of poor and rich, of original and transformation or faces of happiness, Dorn not only opens image worlds but also multilayered interpretation levels. Sometimes by the coupling combination alone she strikes a sociocritical note, sometimes she is only out to convey esthetical values. "The connection between single photos sometimes strikes me by chance", so Dorn, "the pairs of pictures I show often are taken at completely different times and most different locations."
Maria Dorn never goes motive hunting. The motives find her. Staying in New York for several years fired her interest in photography. Already in 1996 she won sixth place in the nation-wide photo contest "Aperture 96". Not until the period between 1999 and 2005, the time she spent not far from "Big Apple", her personal breakthrough occurred: she participated in three group exhibitions with a New York artist guild. In 2005 professional jurors enabled her to attend two larger presentations. Finally she was hired as official photographer for an UN charity event.
"About New York City I loved the sounds, the lights, the urban canyons and the city's people in all their contrasts, and I absorbed every bit of it", Maria Dorn remembers. She became less and less fond of just "nice" pictures. "Art should have an individual charisma", the autodidact says, "it should stimulate". By the way, her photographs never emerged out of artistic ambition. "Am I an artist, because I see something?" Dorn asks provocatively. She is anxious about her first single exhibition.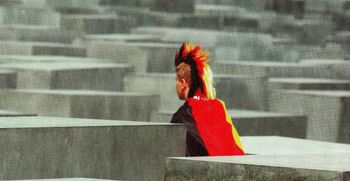 Dorn's photographs claim, and that's the creator's intention, to be rather a media of communication than a subject-matter description. At the exhibition in the Remisen-Gallery she hopes for good discussions with her audience – for instance about her "Heart Moving/Memo-rial" showing a soccer fan running deep in the Holocaust-Memorial in Berlin head-to-tail covered with the Black-Red-Gold colors of Germany. Her photo-couples intensify each other or develop the partner's image theme further. The results are always surprising.

On Maria Dorn's breakfast table there are neither rapid-paced change of perspective nor motive doublings to be discovered. "You have to hurry up to see something, because everything vanishes" Paul Cezanne wrote. Not in this case: Dorn's photos clog your appetite. It's hard to talk with a mouth full.
---